"I joined the staff at Emmaus North Staffs in January 2022, as the Woodwork Supervisor.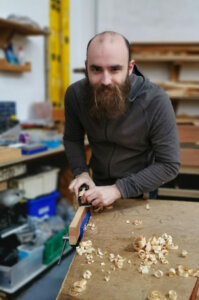 I've always done woodwork-related projects as a hobby. I've taught myself over the years, often creating things for historical re-enactments and building items for my own use. I've also had formal training to hone my skills.
I now lead woodwork classes which are funded by The National Lottery Community Fund, from our workshop inside the Emmaus Furniture & Home Charity Warehouse shop in Hanley. The classes run on a drop-in basis on Tuesdays, Wednesdays and Thursdays, and participants can attend free of charge.
I start by teaching workshop safety and etiquette, before progressing to the practical skills. I try and cover a bit of everything. We do basic joinery: building small, useful items. The first lesson is often making your own tool box, which people can then take home and use.
Participants can also learn how to fix and upcycle furniture. It's great that the workshop is inside our big second-hand furniture shop, because we choose something that may need mending or improving before it is ready for the shop floor. It's a great way of learning woodwork: breaking down and rebuilding things that others have made. People also get a real sense of achievement knowing that something they've upcycled will raise more money for charity because of the skills they've learnt.
As well as power tools work, we also focus on hand tool skills. I teach the participants how to shape something by eye, using maybe three or four tools to carve.
People like the fact that the classes cover different woodwork disciplines: a little hand-carved spoon and a chest of drawers are completely different. We might look at complex joins on a piece of furniture and get out the hand tools to work on them.
Doing the woodwork classes often helps improve people's confidence. I've had some really nice feedback from those who've attended the course, which is good to hear."
Join a free woodwork class in Stoke-on-Trent
Brett's drop-in sessions are run on Tuesdays, Wednesdays and Thursdays. Find out more about the woodwork classes here.