Going to this year's UK Emmaus Assembly in Leicestershire, I heard a lot about Emmaus abroad including a summer solidarity camp in Bosnia and Herzegovina. I felt like it was something I wanted to do so decided to go for it.
I'd already applied to the Emmaus Companion Training Fund for my passport and put another application in for the flight costs. My application was successful, and I was grateful for that. I'd not been abroad before and my first flight was a bit nervy. I didn't want to look out of the window. After that it was great and now I just want to jump on a plane again. I flew from Manchester to Frankfurt and then from Frankfurt to Sarajevo. From there it was a three-hour trip by coach to Srebrenica.
The International Solidarity Forum-Emmaus (IFS-Emmaüs) has been holding summer camps in Srebrenica for over 16 years. This Emmaus group supports a wide range of people in their area and promotes tolerance, community living and equality for all. I was there with about 70 people from different countries who were taking part in the camp. The place we were staying at was a school for 4 to 14 year olds and it was their summer holiday so we were able to use the building.
Helping and learning
During the first week we went to the Pale farm to dig foundations for a new building which will be used as a sports and recreation facility. The following day we filled the foundations with concrete. This first week we also went to the Srebrenica Memorial Centre and it was really moving, learning about their struggles and seeing how it was back then. Hearing their point of view and to see so many buildings still with bullet holes brought it home what they went through.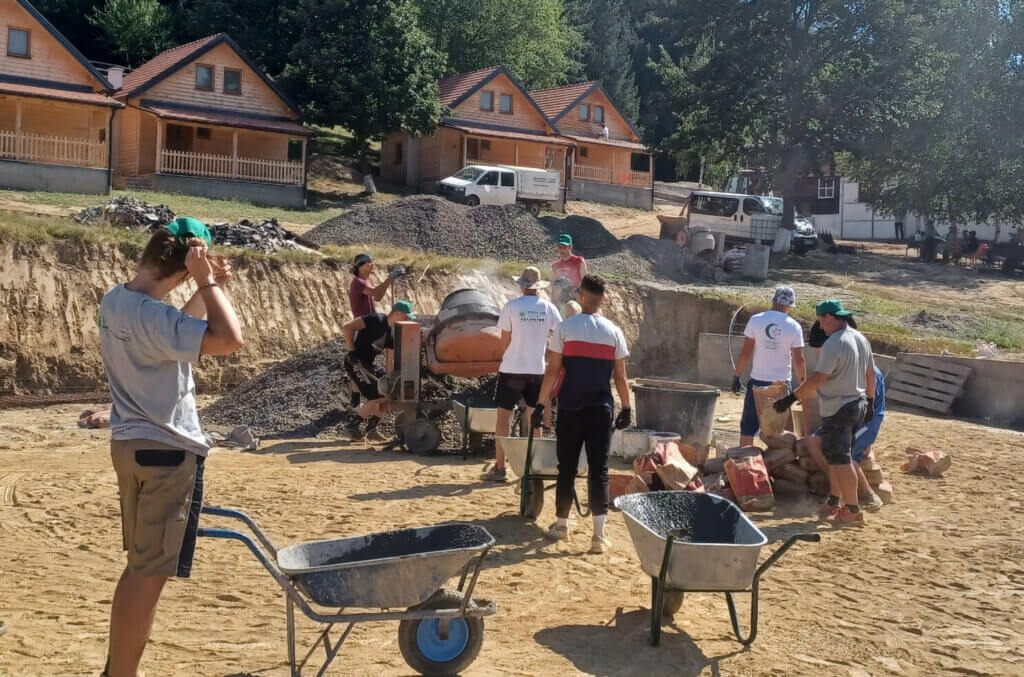 The mothers of Srebrenica who lost sons and daughters in the conflict are still affected a lot. Many live on their own out there and IFS-Emmaüs provides support to them. Emmaus delivers them a meal a day to make sure people have food to eat. I went and helped to chop wood for the mothers of Srebrenica to make sure they had fuel for this winter. Just that little bit what we did meant so much and they were very grateful.
In the second week we helped out at a new elderly care centre, just up the road from the school. They started work on the centre in 2019 and it's due to open in October of this year. We helped to fill in road sides and level off the track. The centre will get the mothers of Srebrenica together so they're not so far apart from each other. There's accommodation as well as other facilities for them all.
IFS-Emmaüs in Srebrenica is very different to our Emmaus in Mossley. They don't have a shop but just go out and do what they can to help others.
Fun and new friends
Alongside the volunteer work we had a lot of fun too. The weather was hot so I enjoyed going to the river and reservoir, having a full day out on the boat – it was great. There were plenty of football games between the staff and volunteers, and other social activities.
All the meals were provided and we ate together each day. To be fair, I'm really fussy with food but when I got over there, I did eat everything. We had lots of rice, chicken, stuffed peppers, the occasional burger and plenty of noodle soup.
The language barrier was hard because I was the only full English-speaking person. We overcame that though and I got on with a lot of people. There were people from Bosnia and Herzegovina, France, Jordan, Romania, Serbia and Turkey. The send-off they gave me at the end was great. They all stayed up until half one to wave us off and it brought a tear or two to my eye. I loved every moment and meeting so many different cultures in one place was a real experience.
I didn't know anything about Emmaus until 18 months ago and now look at me. I've got feelings now and not dead inside. From those two weeks, I've got a lot of memories and still wake up every day smiling about what happened and the fact I actually did it.
The whole experience has benefitted me because I've got the urge to do more now. The world's a big place so I'd like to see more places but I would like to go back to Bosnia next year because I've built a connection of friends there now.