If you are homeless or know someone who is homeless/at risk of homelessness, and you think that they might like to join our Emmaus Leicestershire & Rutland community, please get in touch.
We accommodate up 16 people at our house 'Elm Lea' in Hinckley, Leicestershire. Everyone has their own room and private bathroom whilst living in the community, as well as many large communal areas where they can socialise.
Click to download a checklist: what we do and what we expect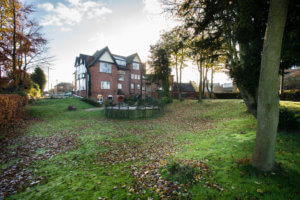 We take referrals from agencies and individuals, and each one is considered on an individual basis. If you want to join our community you need to think about whether you can meet the following criteria:
You must be prepared to work for 40 hours per week, or as much as you are able to
No alcohol or illegal drugs are allowed on the Emmaus premises
You must be prepared to participate in community life
Our success depends on maintaining a stable community so every application is carefully considered. Once we receive your referral, if we feel we are able to support you and there is a vacancy, we will offer you trial place within the community. This will be a chance for you to see if living and working at Emmaus is the right thing for you, and for us to ensure there is a good match between each individual and the community.
Many of our companions have had problems in the past, but if you can show that you are trying to or have overcome these we will be able to welcome you to our community. We can provide support for those overcoming problems such as addiction, as long as you are looking for help and your issues do not impact too much on the rest of the community. Support can include attending local alcohol and drug intervention schemes, art therapy or counselling.
If you would like to apply to come to our community or you are working with someone who would like to be considered, please complete and return a Referral Form:
Emmaus Referral Form – Word version
Emmaus Referral Form – pdf version