Tiffany Mazza, a regular customer and Emmaus Leeds volunteer, shares her experience of shopping at our Secondhand Superstore and tells us how she's upcycled many of her favourite finds.
'It's incredible value, you must visit Emmaus' my Dad declared. He'd told me numerous times about the Secondhand Superstore on St Mary's Street in Leeds. Finally, when I moved into an empty flat in LS9 I decided to pay Emmaus a visit. Here began my love affair with Emmaus, and now I would currently estimate that 80% of the furniture and furnishings in my apartment are from Emmaus. I visit Emmaus at least once a week, whether this be their main warehouse or their shop in Leeds Kirkgate Market. I actually don't remember the last time I left without buying something. I love that stock c­­hanges so frequently and there are always new bits in.
I love second-hand furniture. I find its often better made, it's cheaper, and with the landfills of the world getting bigger, and throw away culture on the increase, purchasing second hand is a way to be sustainable, economical and to find pieces with character. It wasn't until my first visit that I began to learn about Emmaus as a charity, and I believe it's an incredibly sustainable charitable model, that makes a real difference to peoples' lives. It's a joy to visit the shop and I always leave with a spring in my step (along with a couple of lampshades, the odd piece of glassware and most recently a bicycle).
Here are some of my favourite Emmaus pieces so far, and also some works in progress.
My upcycling creations
I bought the wardrobe on the left for £10. I painted some nice flamingos on it and now it's a real feature piece in my room. The bedside table was £5. I sprayed it matt black and sprayed the handles gold. The lamp and lampshade I bought separately £1 each, the glassware was 40p each. All in all the whole bedside set up cost me about £10.
Go retro with matching sets
Getting a matching set gives a uniformed look to a room. I bought this G-Plan dressing table and wardrobe as set from Emmaus for about £100. It's incredibly well-made and it adds a 70's vibe to my bedroom whilst still maintaining a contemporary feel. G-Plan is a mid-century furniture brand that has never been out of style, it's timeless.
Gorgeous glassware
One thing I always love to pick up in Emmaus Leeds is glassware. Modern glassware is really expensive, and actually if you are looking for colour, most new glass is just transparent glass with a colour stuck on. Older glass tends to be actual coloured glass rather than transfers, which makes second hand coloured glass is an absolute bargain and better quality. That's one of my top tips!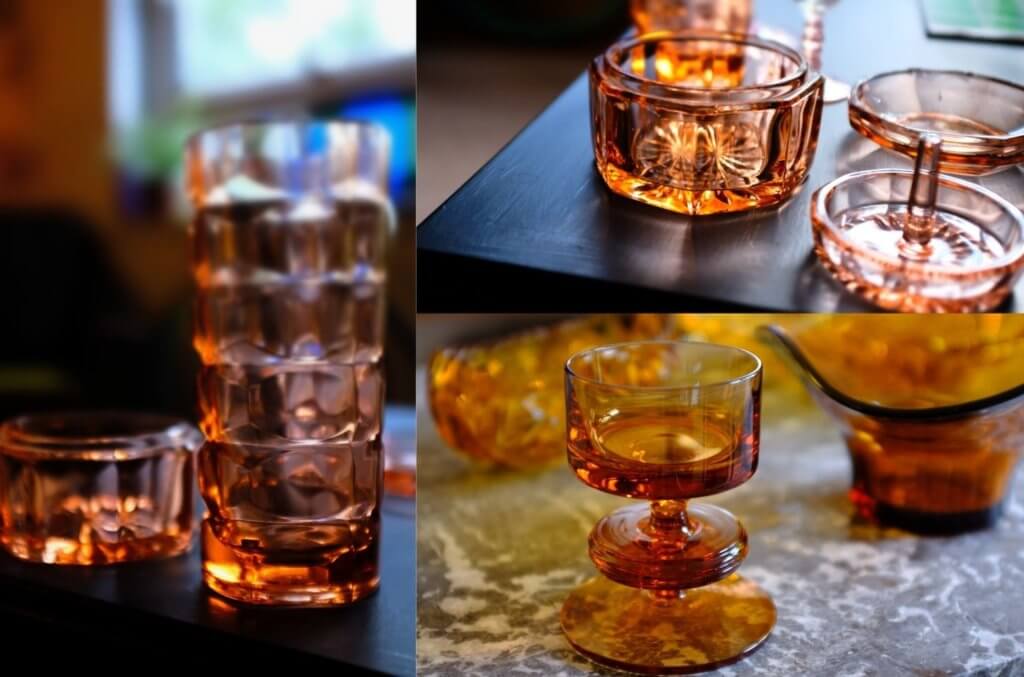 Lampshades on a budget
Lampshades are some of my favourite finds at Emmaus Leeds. I purchased these lampshades for just £1 each. Mixing vintage lampshades in a modern setting adds texture and colour to rooms.
Find your own hidden gems at our Secondhand Superstore on St Mary's Street, Leeds, LS9 7DP or at our Kirkgate Market Stall, Between Rows F & G, Leeds LS2 7HY. Check our opening times before visiting.
Follow us on Instagram @emmausleeds for more upcycling and secondhand shopping inspiration.