International Women's Day is an opportunity to highlight the challenges faced by women today. At Emmaus UK we have seen the devasting impact that homelessness and social exclusion has on people. But for women, homelessness brings a unique set of challenges and experiences.
Official rough sleeping statistics released in February 2023 revealed that of the 3069 people sleeping rough in England, 464 were women. However, a study by the University of York and Fulfilling Lives, shows that women are more likely to experience hidden homelessness, and therefore not be included in official statistics. Women also make up a greater proportion of those living in temporary accommodation.
Women experiencing homelessness face unique challenges
Women's experience of homelessness is different to men's and, as such, women are likely to have more complex needs.
According to the York study, domestic abuse and other forms of gender-based violence are "near universal experiences" for women experiencing homelessness. Many women become homeless after experiencing domestic abuse. And women who sleep rough or live in hostels find that they are not safe places. Speaking about her time in a hostel, Erin says, "I went to live in a hostel, but I found it to be an intimidating place. A lot of the residents were abusing substances and it didn't feel like the right place for me."
The spiralling cost of living, combined with the gender pay gap, puts women, especially lone mothers, at greater risk of falling into rent arrears. And concerns over having their children removed prevent many from seeking help (Shelter, 2021).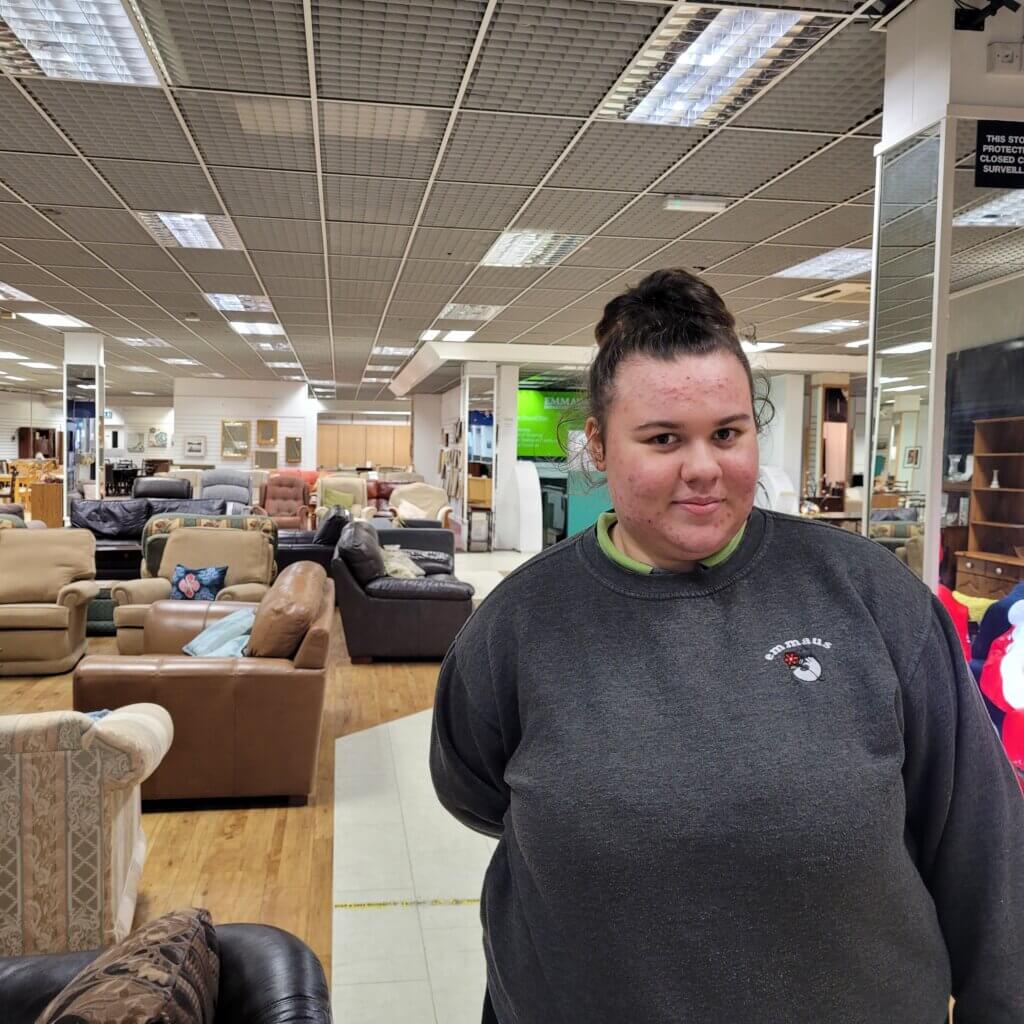 Cassie, a companion at Emmaus Burnley, was forced to give up her flat after struggling to keep up with her bills. She says, "With the cost-of-living crisis, there would have been no way I could have reasonably stayed, even without the debts I had.
"I was falling behind on my gas electric, council tax and rent. I was in debt from everything related to having a flat. There was not a chance."
For women who are rough sleeping or sofa surfing, managing hygiene and access to menstrual products can be particularly challenging. Women experiencing homelessness are also at greater risk of depression, anxiety and low self-esteem.
Emmaus offers support tailored to individual needs
Due to these experiences, women are more likely to encounter trauma and have complex needs. This means that when they come to Emmaus, female companions need different support to men. Emmaus in the UK supports women on their journey out of homelessness by providing a home for as long as they need it, tailored support, and meaningful work.
Emmaus works in a person-centred way, ensuring each individual receives support that is tailored to them. All companions are offered support that is based on their experiences, strengths and ambitions. This 'strengths-based' approach creates opportunities for companions to rebuild a sense of control and empowerment.
Women living in Emmaus communities are given supported that is unique to their individual circumstances. This can include access to counselling, education and training, improving mental wellbeing, and much more. Rooms are private and safe, and some communities offer family rooms so their children can visit and stay over.
Beckie, a companion at Emmaus Preston, has been able to start seeing her children again. She says, "I've got a lot going on at the moment in my personal life including seeing my kids at some point. This wouldn't be a possibility without the support I've been given at Emmaus."
Michelle experienced homelessness after suffering a bereavement. She says, "Emmaus has helped me overcome my grief and I have been anti-depressant free for almost a year.
"When I first arrived, the support team put me in touch with a counsellor, so I had a nice Irish man ring me every week for an hour. Eventually, I didn't need that service anymore, but I always know it's there if I need it again."
Fighting for women today and every day
Emmaus aims to champion women's experiences and achievements throughout the year, on International Women's Day and beyond. Below you can read inspiring stories of women across the federation written in their own words.
If you are inspired and would like to help us support more people, find out how you can get involved.
If you are experiencing homelessness or at risk of becoming homeless, find out how you can get help.