Members of staff from gas network Cadent stepped into the shoes of a homelessness charity to provide late-night outreach support, following a visit by charity beneficiaries to its main training centre in the UK.
Employees from Cadent joined people from Emmaus charities in Lancashire for the night, travelling to Rochdale, Oldham, and Bury town centres, to help distribute water, sleeping bags, toiletries, and clothing to people rough sleeping.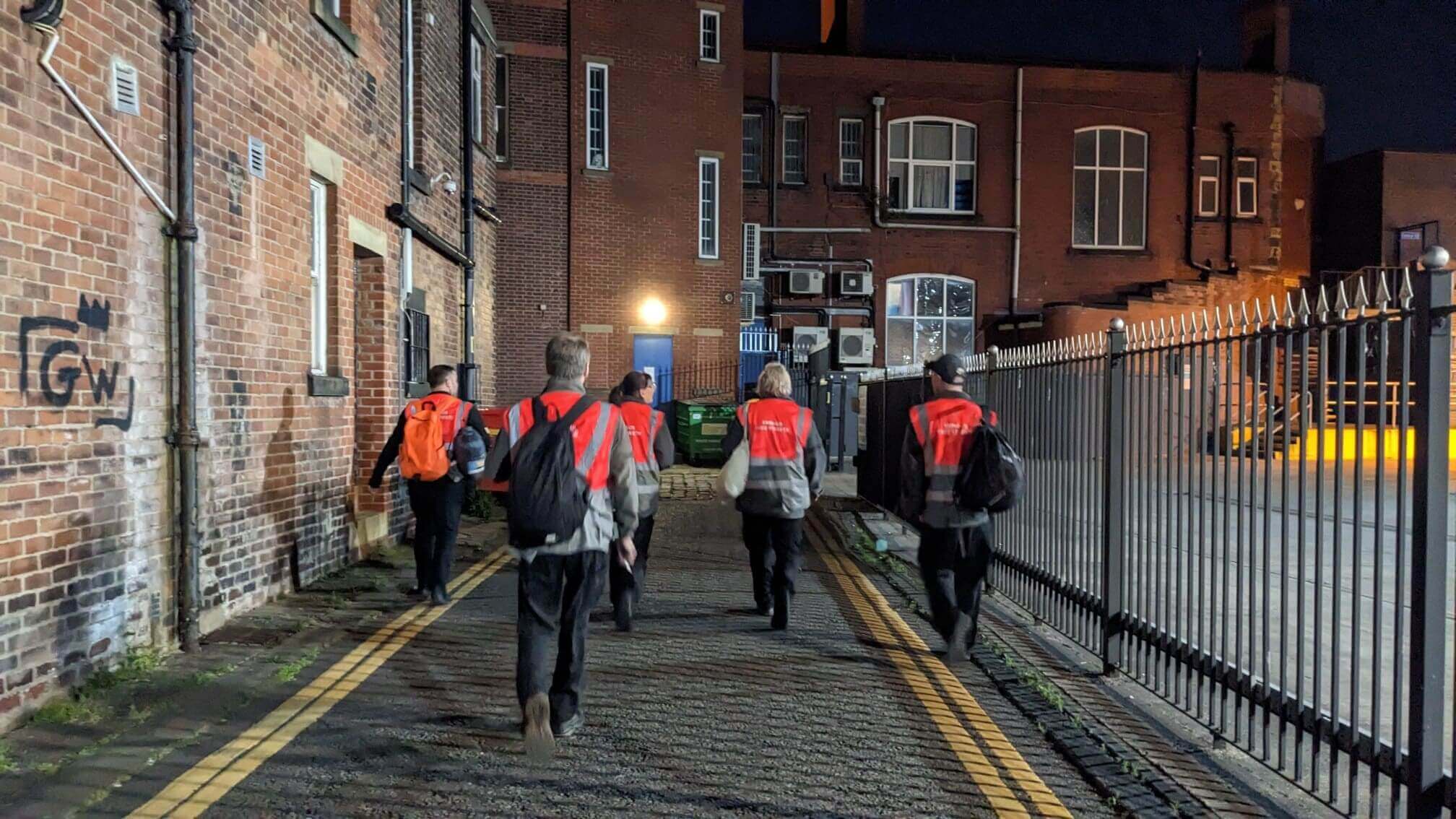 The Emmaus charity's outreach service, Free Streets, was piloted over the course of a year to give advice, signpost services, and provide support to people who have been forced into street homelessness.
Emmaus in Lancashire is made up of Emmaus Preston and Emmaus Burnley, which provides a home, personalised support, meaningful work, and training to help people with experience of homelessness move on in life.
Learning about different jobs
As part of the 12-hour exchange, people supported by Emmaus communities in Preston and Burnley, known as companions at the charity, visited Cadent's main training centre in Hollinwood, near Oldham.
Companions learned about the different career roles and opportunities to climb the career ladder at Cadent and watched live demonstrations from engineers extinguishing controlled gas fires and carrying out live maintenance on gas pipes.
Paul Clarke, Cadent's Head of Safety and Assurance (North West), who started his career in Rochdale, said: "We've formed a two-year partnership with Emmaus which is seeing us raising money for the charity and also identify opportunities – like this one – to help develop our understanding of the issues relating to homelessness.
"Whether that's offering financial or practical help, or opening doors to new opportunities, we want to be a force for good. I know we opened companions' eyes to what a career in our industry can offer, and our visit later that night – to Rochdale, Oldham and Bury – made clear to our team the commitment and life-changing support that happens every night thanks to the Emmaus team."
Opportunities to progress
Peter, who is supported by Emmaus, said: "I didn't know about the whole process of gas engineering before and now I know the basics. It made me more interested in gas engineering as a job. As long as you have the commitment to work, it's good to know the opportunity is there for you."
Fellow companion, Dave, said: "Working in gas engineering is an excellent idea for someone moving on from Emmaus and looking for a sound job. That's what Emmaus is about, getting people on the straight and narrow."
Thank you Cadent
Head of Support at Emmaus in Lancashire, Karen Wallis, said: "Cadent's interest in outreach work was much appreciated. Our aim during the night was to engage as many people as possible with the help that's out there, by providing support, advice, and the basic essentials to take that next step.
"At Emmaus support workers help our companions to set goals for the future. Being able to explore different job options and hear stories of career progression first-hand is of great benefit to our community. We're thankful to Cadent for demonstrating what they do in such a practical and engaging way."
Find out more about teaming up with Emmaus Preston here