Encounter Festival artist Joseph Doubtfire has been delving into the world of charity shopping at Emmaus Preston as part of his research for a written publication.
The freelance artist spoke to people at different charity shops around Preston to gather views of second-hand shopping to put together 'p/reloved – reflections from a charity shop artist in residence'.
Joseph said: "I've been talking to customers who are buying items from Emmaus Preston charity shops and asking: are they looking for a bargain or looking for something that has a history? People I've met like things not being used once. I wanted to put together a piece of written work that really reflects these things.
"The Emmaus Preston customers I have met have been lovely. Everyone has different reasons for being there, from the two women who were buying sparkly dresses for a cruise, to a man on holiday here from Cornwall who was caught in bad weather without a jacket and a person who was getting back into reading and was looking for books that interested him."
Emmaus Preston has three charity shops in the city on Fishergate and Lowthian Street by Preston Markets, selling preloved furniture, clothing and vinyl, as well as brand new beds, mattresses and kitchen appliances. Money raised helps generate the funding needed by the charity to maintain a community home and support for up to 26 people with experience of homelessness.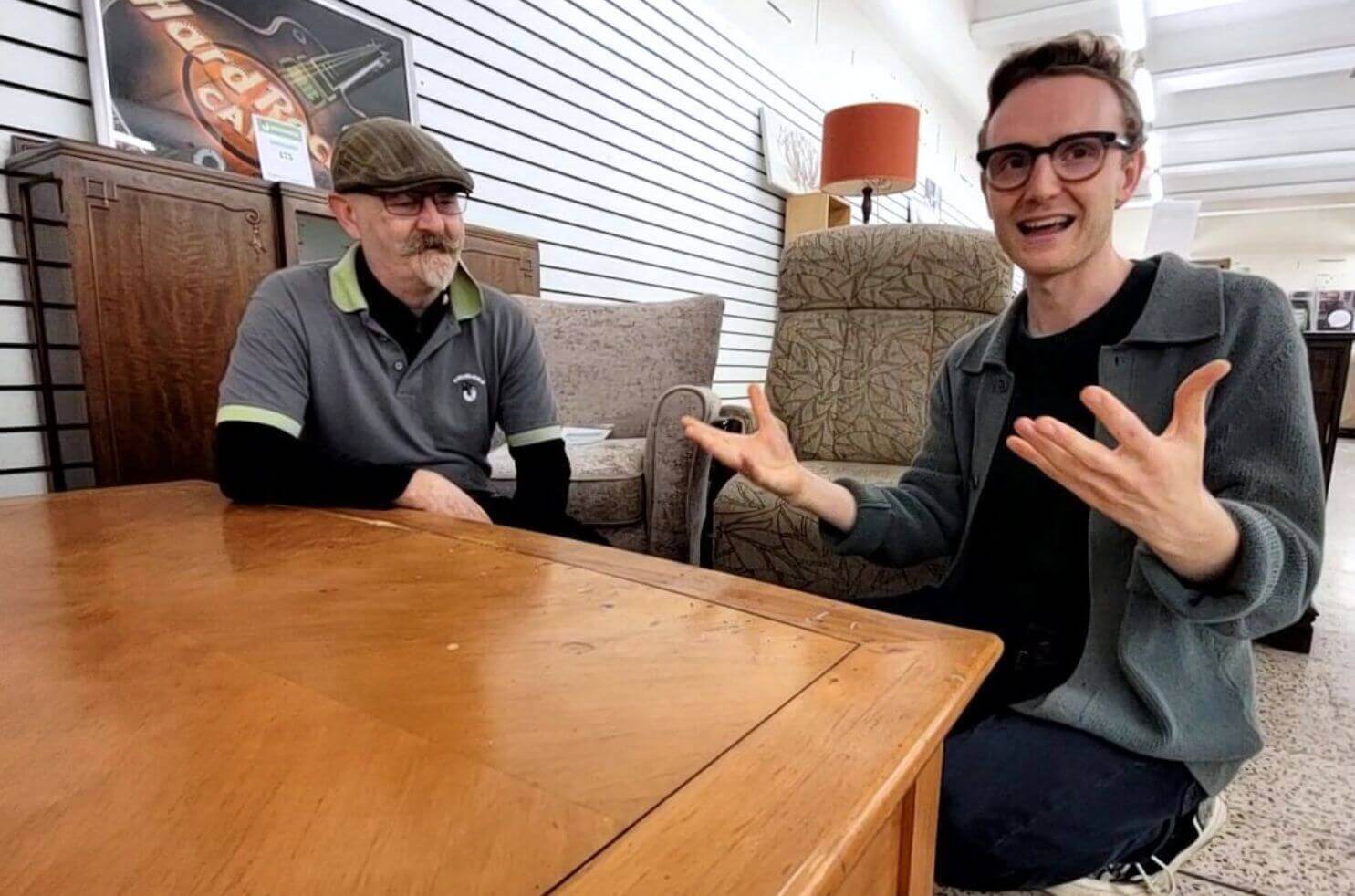 Joseph visited Emmaus Preston shops on Fishergate and Lowthian Street in the weeks leading up his art exhibition as 'Charity Shop Artist in Residence' for Lancashire Encounter Festival, that took place in the city in September.
He used album covers from the charity shop's vinyl section to create the artwork for the festival and borrowed furniture from Emmaus Preston's Homeware Store to set up an outdoor living room where people could sit to browse his work. Joseph later exhibited these pieces of art at Emmaus Preston Fashion, Vintage and Retro charity store on Fishergate.
Joseph thanked Emmaus Preston in 'p/reLoved'. He said: "I have always been obsessed with charity shops. Bric-a-brac is my absolute addiction.
"Three years ago, I moved to Preston and scouted out the charity shops in the city. This was when I came across Emmaus. I ended up buying a wardrobe and a few other bits and bobs.
"The reason I love charity shops is because everything has a history. It has been used and cherished before. What I like about Emmaus Preston is that each shop is so different."
'P/reloved – Reflections from a charity shop artist in residence' is available at here at Joseph.Doubtfire.com