Emmaus Bolton is on the hunt for local volunteers to support our community and social enterprises.
We have a number of roles available covering the recycling centre, Scrap Store of art and craft supplies, bric-a-brac sorting and social supermarket, Lucie's Pantry, which is currently operating as a food bank. Emmaus is looking for individuals with suitable skills and experience, as well as a commitment to volunteer at least one day per week.
Rebecca Coleman, Senior Wardrobe Technician at the University of Salford, has volunteered at Emmaus Bolton's recycling centre for the last 12 months. Rebecca shares the reuse and sewing skills she has gained from her career in fashion and costume design.
Rebecca said: "Being in community theatre and being involved in the community, volunteering at Emmaus Bolton was an opportunity to come somewhere I know and like everyone, share my skills and knowledge. It is so rewarding in so many more ways than I thought it would be.
"I like repurposing something 'throwaway' into something that can be used in a different way."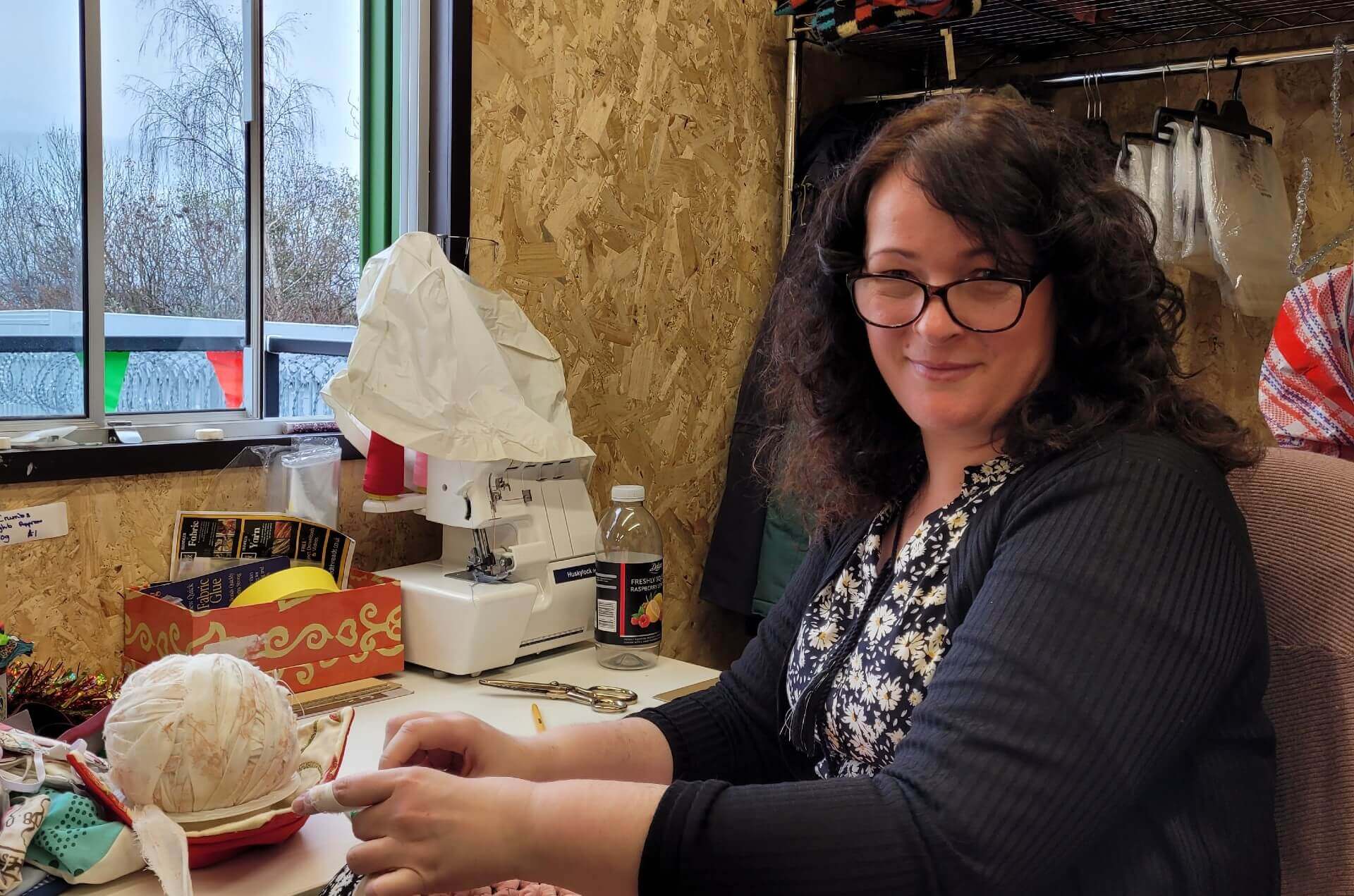 New items on sale at Emmaus Bolton include bags made completely out of recycled materials by volunteers, which have been sourced from donations from individuals as well as businesses looking to recycle surplus, off-cuts or excess.
All proceeds support people with experience of homelessness who can find a home, support and meaningful work at Emmaus Bolton. The charity runs many different social enterprises to be as self-sufficient as possible, taking in, upcycling and selling donations and recycling fabric, appliances and furniture, household goods, bric-a-brac and vintage pieces.
Mutual benefits of volunteering
Tony Stephenson, Director at Emmaus Bolton, said: "Our volunteers are such an important part of the community at Emmaus Bolton. Volunteering is a fantastic opportunity to learn new skills and form new friendships while helping others. It's of mutual benefit to us all.
"We would like to invite as many people as possible to take advantage of the roles we have available. Our volunteers play a huge role in helping our charity grow and innovate to create an environmentally-friendly and sustainable future for Bolton."
How to volunteer at Emmaus Bolton
Emmaus Bolton offers all volunteers the opportunity to develop their skills and gain experience for a worthwhile cause. Training is offered where possible and all volunteers receive meal and travel expenses on the days that they volunteer.
Rebecca added: "There are lots of things you can do here at Emmaus Bolton. You don't have to have specialist knowledge come and have a try and see. You can rip up, deconstruct, learn how to make rag rugs. Try things and see what you get into. We have some good ideas!"
To find out more about the roles on offer at Emmaus Bolton visit our Volunteers Page.
The charity is signed up to Bolton Volunteer Charter, a commitment to developing and upholding good practice around all aspects of volunteering.