Love arts and crafts as much as you love recycling? We're looking for people to champion the amazing recycled supplies in our charity Scrap Store, all created from clean business surplus, excess and donations. Come help customers start their next art and design project and get some inspiration for yours!
Key responsibilities include:
♻️Creating exciting displays to showcase our recycled goods
♻️Re-stocking supplies from our onsite Recycling Centre and making the shelves sparkle
♻️Helping customers source art and craft supplies from our unique offers
♻️Pricing up our fantastic bargains and putting together craft kits and bundles of amazing deals
Skills and experience required:
👍🏽Ability to work independently and as part of a great team
👍🏽Motivation, enthusiasm and a positive attitude
👍🏽Desire to discover even more about arts and crafts
👍🏽Some customer service experience
👍🏽Willingness to support our Recycling Centre (on-site)
Time commitment:
⏰ We are looking for a volunteer that will commit to at least 4 hours per week. We can be flexible in terms of what day(s) these will be.
Training, support and benefits:
⭐A full induction when you start
⭐Full support throughout your time as a volunteer
⭐Develop your skills and experience for a worthwhile cause
⭐Further training where possible
⭐Lunch provided
Emmaus Bolton is signed up to the Bolton Volunteer Charter, a recognised pledge to show our commitment to developing and upholding good practice around all aspects of volunteering.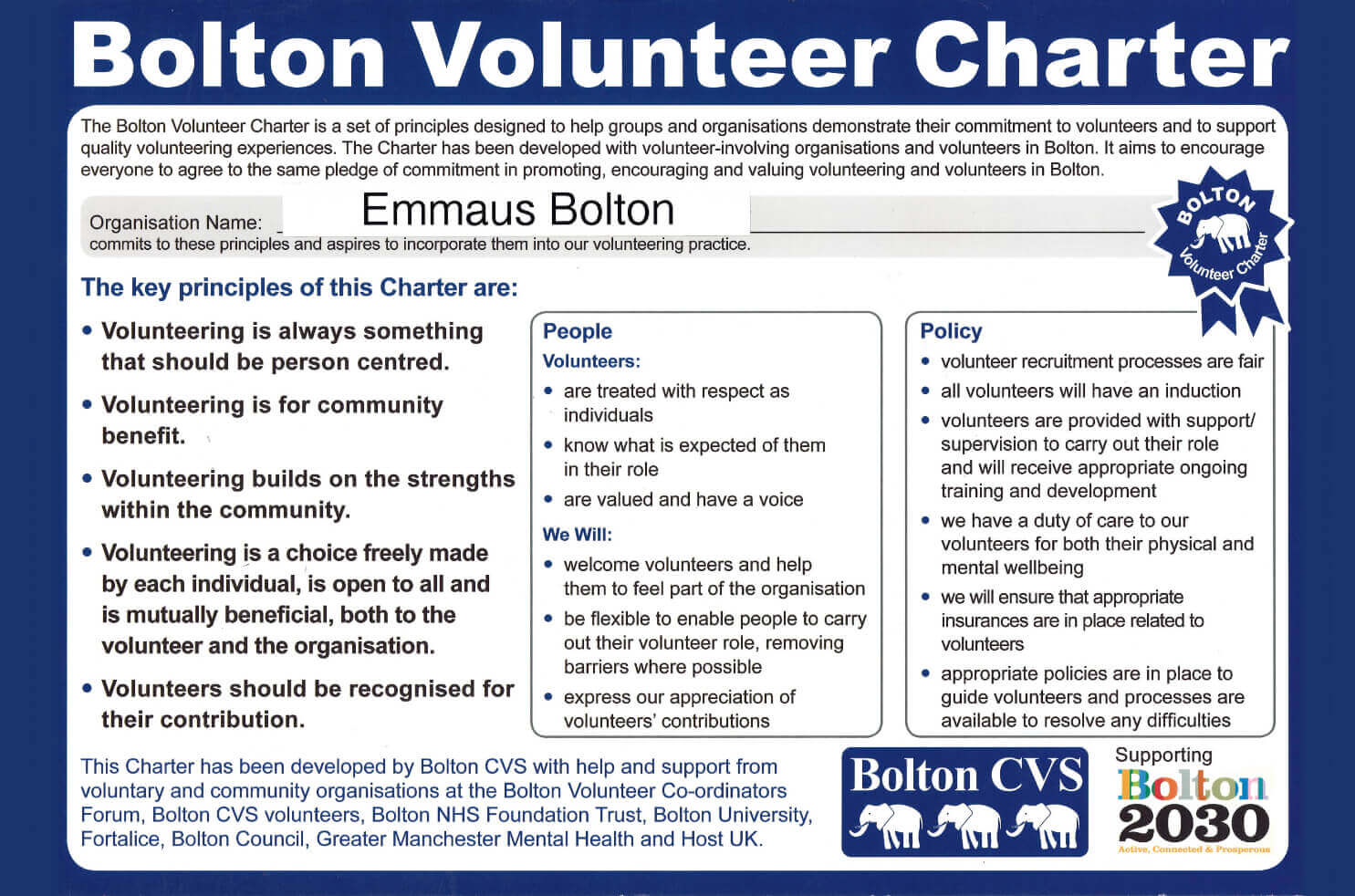 Apply today
To apply for this role, please complete the application form below and return to [email protected].