Do you love browsing preloved clothing, finding great second-hand fashion and creating eye-catching outfits? We're looking for a team of clothing and fashion volunteers to help our exciting new items jump off the rails!
Key responsibilities include:
💚 Creating fabulous clothing displays for our charity shop
💚 Preparing clothes in an attractive way to go on sale – we're talking hangers, colours and sizes here!
💚 Sifting our donations to cherry-pick the very best in second-hand fashion
Skills and experience required:
🎉 Ability to work as part of a great team
🎉 Motivation, enthusiasm and a positive attitude
🎉 Knowledge of clothing designers, brands and labels
🎉 Ability to work fast and accurately
🎉 A retail background would be a bonus, but is not essential for this role
Time commitment:
⏰ We are looking for clothing and fashion volunteers that will commit to at least 4 hours per week. We can be flexible in terms of what day(s) these will be.
Training, support and benefits:
⭐A full induction when you start
⭐Full support throughout your time as a volunteer
⭐Develop your skills and experience for a worthwhile cause
⭐Further training where possible
⭐Lunch provided
Emmaus Bolton is signed up to the Bolton Volunteer Charter, a recognised pledge to show our commitment to developing and upholding good practice around all aspects of volunteering.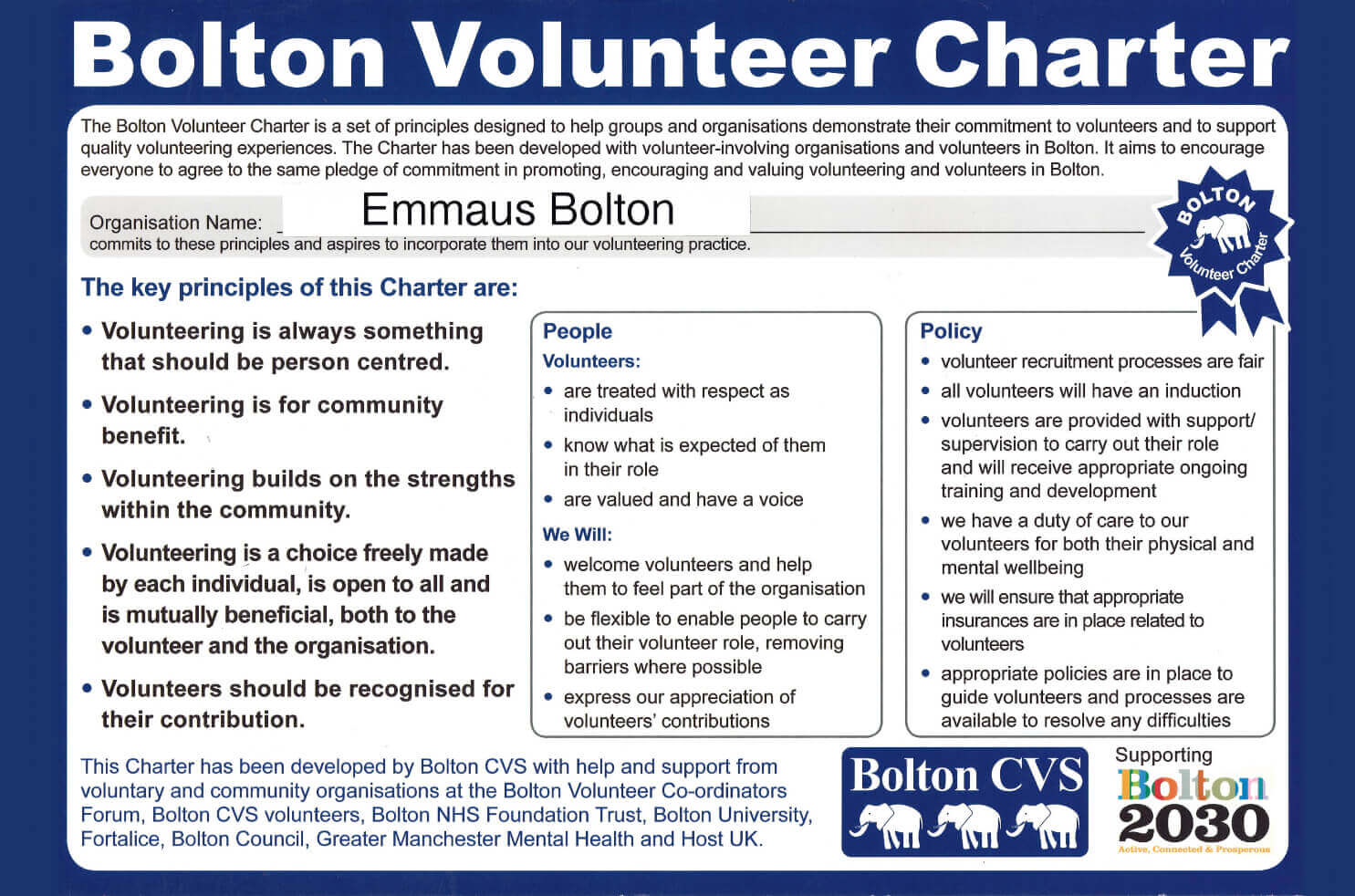 Apply today
To apply to volunteer with Emmaus Bolton you can do this online or you can complete the application form below and return to [email protected].
If you would like to come to visit first, please pop into Emmaus Bolton off Fletcher Street, BL3 6NF to have a look around.