Our charity is unique and our upcycling service is too. Make your mark on your home and outdoor furnishings by going bespoke.
It could be breathing new life into pre-existing furniture, adding the finishing touches to an order from our furniture making service or personalising purchases like preloved bureaus, chest of drawers or tables bought from our Derby Barracks store. We can even give new items a 'new' look. Don't forget everything you commission helps us give valuable work and training to people rebuilding lives from homelessness, with advice and guidance from our expert carpenter and projects manager, Phil.
What's available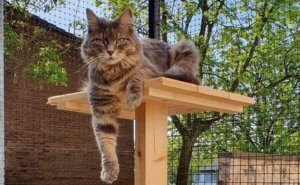 Share your project with our team and we'll discuss the range of treatments, varnishes and paints on offer, including our stock of recycled ReColour paint, at prices cheaper than the high street. Not only will you be putting the love back into your preloved furniture, but you'll will be protecting the environment and supporting our homelessness community of people too.
How to order
From cat stands to coffee tables out of reclaimed glass from fridges, we can upcycle it all! Please ask our team about our upcycling service in store or call 01204 398056.