Every month Julie, our Tree Nursery Manager, brings readers a monthly blog post all about our tree nursery, plants, gardening and more. For the May edition, Julie explores the vibrant flora of hawthorn, wingnuts, violets and bluebells plus has a few exciting updates from our tree nursery!
Whether you're an avid gardener or nature enthusiast looking for inspiration, or simply interested in learning more about what's happening at our nursery, we've got something for everyone in this monthly blog series. So sit back, grab a cup of tea, and join us as we explore the wonderful world of trees and gardening at Emmaus Cornwall!
Hawthorn and Wingnuts
As it's our May blog post, I had better mention the hawthorn, more commonly known as the May flower tree. The snowy, showy blackthorn flowers are disappearing and everything continues to green up. The hawthorn leaves are coming out before the flowers, and this is one of the easiest ways to identify blackthorn from hawthorn. The May tree typically flowers in May, hence it's name, and it's a lovely small tree that can be planted in a garden or part of a hedge. It's great for wildlife, from the insects taking the nectar and pollen to over 200 plant-eating insects depending on hawthorn and birds nesting in the depth of the branches. If you would like to find out more about the May tree, some great resources can be found on Woodland Trust, Plant Lore, Cornwall Wildlife Trust and TCV.
In our nursery, the young hawthorns have germinated and have now been planted into pots (below). From such tiny seeds, there will one day be a four-metre tree that could live for 400 years. Because they are native to this country they are adapted to the environment and widespread across the landscape from sand dunes to moorland.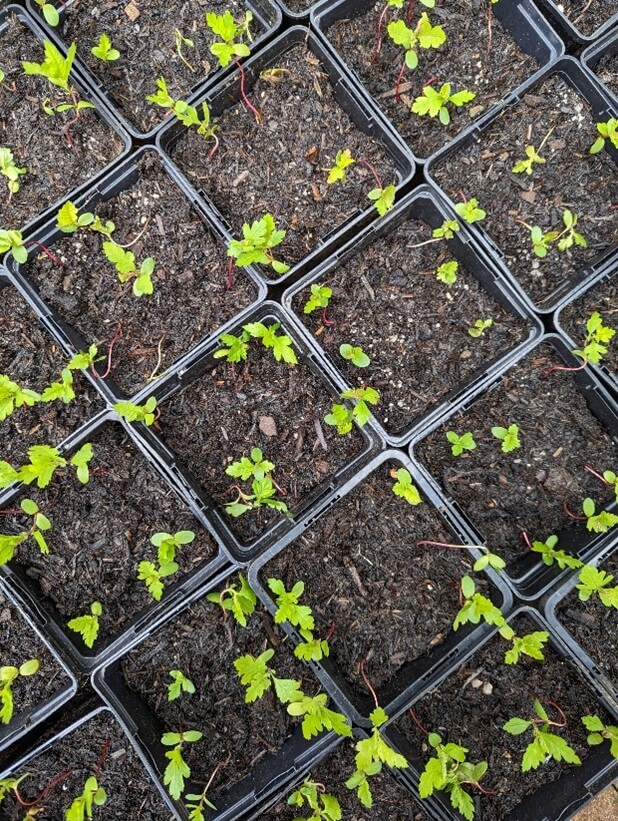 From Native trees to non-native, another group of trees that were collected last year during our seed collections was the Caucasian Wingnut. This is where Latin names come in handy because there is more than one tree that sports this common name. The one that is growing in our nursery is the Pterocarya fraxinifolia, a species of tree in the Juglandaceae family, more commonly known as the Walnut family.
Caucasian Wingnut is a large tree with similar shaped leaves to an Ash tree. This may have become a replacement tree for the ones that are being lost from Ash dieback. It seems to be resistant to pests and diseases and completely hardy in the country.
These little babies below will take at least two years before they will be ready to plant at our nursery:
Violets and Bluebells
May brings even more life to nature. Underneath the canopy of the woodlands, violets and bluebells are appearing. In the past, bluebells were used for making glue for binding books in medieval times. Violets have many uses too. From a wildlife point of view, they are the food for the Pearl Bordered Fritillary butterfly. Sweet violets are easy to identify, just by the beautiful fragrance. Others, like the dog violet, do not have a scent which is a little disappointing but still a beautiful flower. I can't wait to see what is showing next month!
Tree Nursery update
We are working hard in the nursery starting the no dig beds and cutting the grass between the rows of trees, leaving the rest of the field this year for hay growing. All the trees out of wind break are happily growing away and now we need to tend to them by weeding around them and mulching them. The first year is when it's so critical to make sure there is not competition from grass, so we weed and put a mulch on so that the moisture in the soil is preserved. You can also plant cover crops to help protect the trees, like clovers for example, as these do not compete with the trees and are nitrogen fixers.
Learning from other nurseries
I visited Moor Trees last week at Dartington, Devon and was shown around their Community Tree Nursery. They have been established for 10 years and grow native trees working with volunteers to establish more woodlands on Dartmoor. It was a very helpful and informative day led by Adam Owen and Dave Lewis, who I am sure we will collaborate with in the future.
Next month, we can look forward to seeing the growing beds completed, the hay crop blowing in the wind and hopefully some warm sunny weather as I write this looking out the window to grey mist!
To find out more about our tree nursery or to volunteer, check out our Community Tree Nursery page.