The purpose of the board is to provide sound governance to the organisation. This includes agreeing strategic direction, approving and reviewing policies and procedures, appointing executive staff and ensuring compliance with the objectives, purposes and values of the organisation, and with its governing document.
Julie Raikes – Chair of Trustees
Julie is an Accountant with over 30 years experience in Business Finance.  In 2008 she set up her own Company supporting small Businesses in managing their finance and growth Julie is passionate about inspiring and supporting people in all walks of life to become their very best self, believing that everyone has the ability within them to be incredible. She was truly inspired when discovering Emmaus because of the dedicated and supportive environment which helps people change their lives for good and became a Trustee in August 2017.
Originally from Yorkshire Julie settled near Bridgend.  She is married to Neil and has one son and four amazing and fun grandchildren. Julie loves the outdoors so can often be found walking, cycling or just pottering in the garden.
John Noble – Treasurer of Emmaus South Wales
After reading economics at LSE, John became a Chartered Accountant, later studying at the Harvard Business School.
His career included advising and running companies around the world, subsidiaries of the Lucas and Fairey Groups and Oakland Venture Capital. Latterly he advised Governments in Africa and Eastern Europe (Zambia, Ghana, Swaziland and Latvia) on restructuring, privatisation and regulation of public enterprises.
Living near Cheltenham, John became a trustee of Emmaus Gloucestershire in May 2002, reopened the Community, and was the Chair until 2009 when he temporarily became Chair of Emmaus Preston which he also reopened. He was elected to the Board of Emmaus UK on 1st December 2006, was Vice Chair in 2009 and 2010 and Chair in 2011 and 2012, during which time Emmaus Cambridge & Emmaus Dover rejoined the Federation. In 2008, he was asked to mentor the South Wales Emmaus Group, becoming a Trustee and, from 2011 – 2016, Chair of Emmaus South Wales. He finds his work in Emmaus amongst the most rewarding things he has ever done and numbers many Companions amongst his friends. He continues to support the first Emmaus Community in Wales in the role of Treasurer.
Bethan Jackson – trustee
Bethan brings almost ten years of experience in the homelessness sector to Emmaus South Wales.  She is passionate about helping homeless people to access the opportunities they need to improve their lives and wants to help strengthen Emmaus South Wales so it continues to serve the homeless community in a sustainable and modern yet compassionate way.
Bethan is a Law graduate with a Masters degree in Human Resource Management.  After working in HR in both the public and private sectors for eight years, Bethan took a career break to have her two children before moving into homelessness support services for young people in Cardiff.  Bethan believes that providing person-centred support that is empathetic, empowering and based on understanding rather than judgement is vital to effective support work.
Bethan is currently undertaking a social work degree alongside her work as a homelessness support worker.
Emma Hammonds – trustee
Emma graduated from UWE in 2004 with a Ba (hons) Politics and for the past 15 years has worked within the housing, social care and third sectors in a number of different roles.
Her previous roles have included; a senior Support Worker for Shelter, a Contracts and Review Officer for Torfaen's Support People team and Director, Torfaen and Blaenau Gwent Mind. Emma has previously acted as a trustee to a charity supporting carers in Torfaen and a local Women's Aid group. Emma's current role is as the Partnership lead within a Local Housing Association.
In her spare time, Emma enjoys spending time with friends, crocheting and travelling.  She has also recently taken up wild swimming in the river Usk. As a trustee she is pleased to be able to contribute to the development and success of Emmaus South in its commitment to tackling homelessness.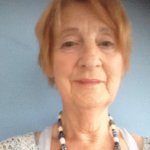 Lynne Arcos – trustee
I came from Yorkshire to Cardiff university and pursued a career in child related social work both in Leeds and Cardiff before marrying and having my two sons. I then had a stint in office work for the family business to fit in with the family before taking a clinical reflexology course, qualifying in 1995.
I was lucky after gaining experience to be able to work in Velindre hospital as a complementary therapist,  where I stayed for 14 years before retirement.
Mark Roberts – trustee
Mark Roberts worked for the Cooperative Group Food for 39 years, starting as a management trainee and progressing to Regional Stores Director.
He retired from this employment in 2015 and now works as a mentor for Business Wales. During his time at the Coop he was in charge of delivering significant business change within the 573 stores in South Wales. He is married to Sharon and is proud dad to Rhian and Claire, and grandad to Alexandra and Francesca. His hobbies include American History, collecting vinyls (of which he has 600!) and swimming to keep fit. He has served as a trustee of Emmaus South Wales since September 2015.
Peter Knapp – trustee
Born and educated in London I had a thirty plus year career with a major British Bank mostly on the international side of the business, in various cities in the UK and for three years in Cairo.
I also worked in the Welsh Development Agency developing Japanese and Korean investment in Wales. I then spent seventeen years as a self-employed trainer in the techniques and marketing of exporting.
I have lived in Cowbridge since 1984 during which time I have twice served on Cowbridge Town Council and was Mayor during 2014/15. I have been a Governor of the local Primary School. For ten years I was Chairman of the Cowbridge Amateur Dramatic Society and am now President of the Society. I am Chairman of the Friends Association of the Cowbridge Music Festival.
My wife  Jo and I have six children and nine grandchildren.
Theresa Virginia Eades – trustee
I have worked in the housing movement since the age of 21 starting as a PA to the Chief Executive for one of the first Housing Association's ever set up in Wales.  It was called Secondary Housing Association for Wales and it was not only a primary Housing Association but was responsible for setting up other Housing Associations all over South Wales.  I loved the work and was happy to be promoted and move into the actual housing work on the front line where I learnt so much.  I worked with this Housing Association for 26 years in all sorts of roles and when I was 40 decided at last to go and do qualifications.  I passed my HNC and BSC in housing policy and practice. I also sat the Institute of Legal Executive exams and have a Diploma from Reading University in Estate Agents practice.
After 26 years I thought a change was necessary and moved to another Housing Association to work, once again in Cardiff. I retired on 18th October 2019 but am shortly to start another completely different role in August this year. I love being on the Emmaus Board and am totally committed to the concept of not only providing housing but supporting our companions to achieve their long term goals.  I relax by playing piano, reading, writing poetry and children's books and looking after my two dogs who are like little shadows.
Emyr-Wyn Francis – trustee
A resilient, agile, strategic multi sector finance professional with over 15 years operational and commercial experience at Executive and Board level in the Oil and Gas, Printing, Engineering and FMCG industries.  Successfully led a business through a period of turmoil due to the unexpected downturn in the oil & gas sector to its sale to a NYSE Company in September 2018.  Key strengths include strategic planning whilst being cognisant of the need to be adaptable and resilient in response to changing conditions.  Experienced in managing complex and unforeseen situations whilst not losing sight of the key objectives.
A community councillor in Seven Sisters and also a school Governor in Ysgol Gymraeg Blaendulais. A father of two energetic boys and has a love of football – specifically season ticket holders of Swansea City Football Club.  Enjoy's long walks and thrives on time with the family.
Kate Lowry – Secretary of Emmaus South Wales