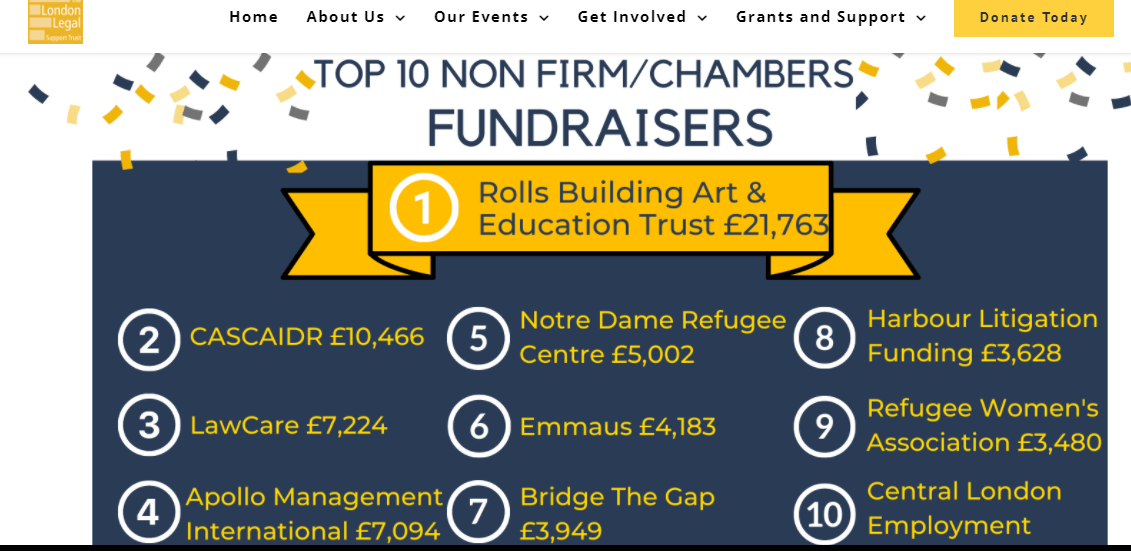 The London Legal Walk took place this year on Monday 18th October. This walk was to raise access to justice by providing free or pro-bono legal work. 50% of the funds that we raise have been designated by us for the South London Refugee Association.
Helen, our Project Manager, shared her experience with us:
""The London Legal Walk was set up in 2005 to help raise much needed funds to secure access to justice by providing free or pro-bono legal work to those who would otherwise struggle to pay. This could be for a whole range of issues, including benefit advice, immigration, work disputes as well as housing and homelessness advice.
Every year our Solidarity Committee looks for ways to fundraise to show support to those in need within our society. According to the London Legal Support Trust there has been a significant year-on-year annual decline in available funding; it is estimated that two thirds of the UK population don't know how to get legal advice and 14 million people living in poverty cannot afford to pay for it. Given the current conditions in the UK at the moment, the ending of furlough, removal of the £20 universal credit uplift, rising fuel, energy and food costs, those numbers are only set to rise.
COVID has made it more difficult to host events and fundraisers, so we thought taking part in the 10km walk would be a great way to get out in the fresh air, get some exercise and at the same time show solidarity by raising funds.
A 12 strong team of Companions, trustees, volunteers and staff (including James our own CEO, and Charlotte, the Emmaus UK CEO) successfully completed the walk in around 2 hours. We chose to do the South River Walk, which started off at the Royal Courts of Justice and headed down towards Blackfriars bridge and then alongside the river passing the South Bank, crossing back over at Vauxhall. From there we headed up towards Westminster, and then the Strand and Holborn arriving back at the Royal Courts of Justice, taking in the sights as we went. I really enjoyed the walk and it was a great opportunity to chat and catch up with
colleagues in a more relaxed setting away from the everyday distractions. We were very fortunate to avoid the rain and even managed to beat our fundraising target in the end!"
We would like to thank all the participants for their help to raise funds.
An extra special thank you goes to Emmaus Village Carlton for their very generous donation of £2,768, which came from a day's takings dedicated to this solidarity event by us.
We would like to also thank all those who donated, and didn't partake in the walk itself.