Since moving to South Manchester about 10 years ago I've been drawn to reuse and charity shops, regularly updating my wardrobe and home with unique finds.
As a Visual Merchandiser and Interior Stylist of 18 years, I have a natural eye for style and colour. We are spoilt for choice by the selection of reuse shops within the Manchester area, as well as the markets and pre-loved events that Stockport, Macclesfield and Buxton, to name but a few, have to offer. Then there's the out of town superstores such as Emmaus Mossley, spread over two floors of an old mill, complete with a café, offering enough affordable variety to furnish your home in one trip!
I've spent years working for high street retailers, witnessing the ebb and flow of design trends. At times things can seem uninspiring with a lack of diversity. That's where charity retail gains the upper hand. The satisfaction of finding something truly unique, knowing you won't see your neighbour with the same interior. You can really stamp your personality on your home, bringing joy to everyday life.
Reusing and recycling
Aside from these aesthetic benefits, there is of course the even larger impact on our environment. According to government statistics, the 'Waste from households' recycling rate was 44.7% in 2018, equating to 22 million tonnes, which is a staggering 386.1kg per person (Source – www.gov.co.uk).
By reusing pre-loved goods, we directly impact on these figures, reducing the need to manufacture new goods. This year, from the 21 – 27 September, WRAP's 17th annual 'Recycle Week' is a celebration of recycling. The theme will thank the nation for continuing to recycle despite the challenges that COVID-19 has presented, under the banner 'Together – We Recycle'.
Having managed two Derbyshire based charity shops, I've seen first-hand the diverse range of fantastic donations they receive, from bikes, to designer clothing, to historical artefacts, the list goes on. In fact, one of the best donations I've received through the door was a Saxophone that raised £300 via our charity eBay shop!
Over the years I've bought some fantastic things, the most notable being a wood burning stove. Others include a fantastic solid pine bed frame and wooden standard lamp, purchased from Emmaus and upcycled using chalk paint and finished with wax for a durable finish. I'm a sucker for house plants and I also found this gorgeous bamboo plant holder which sits perfectly in my bathroom.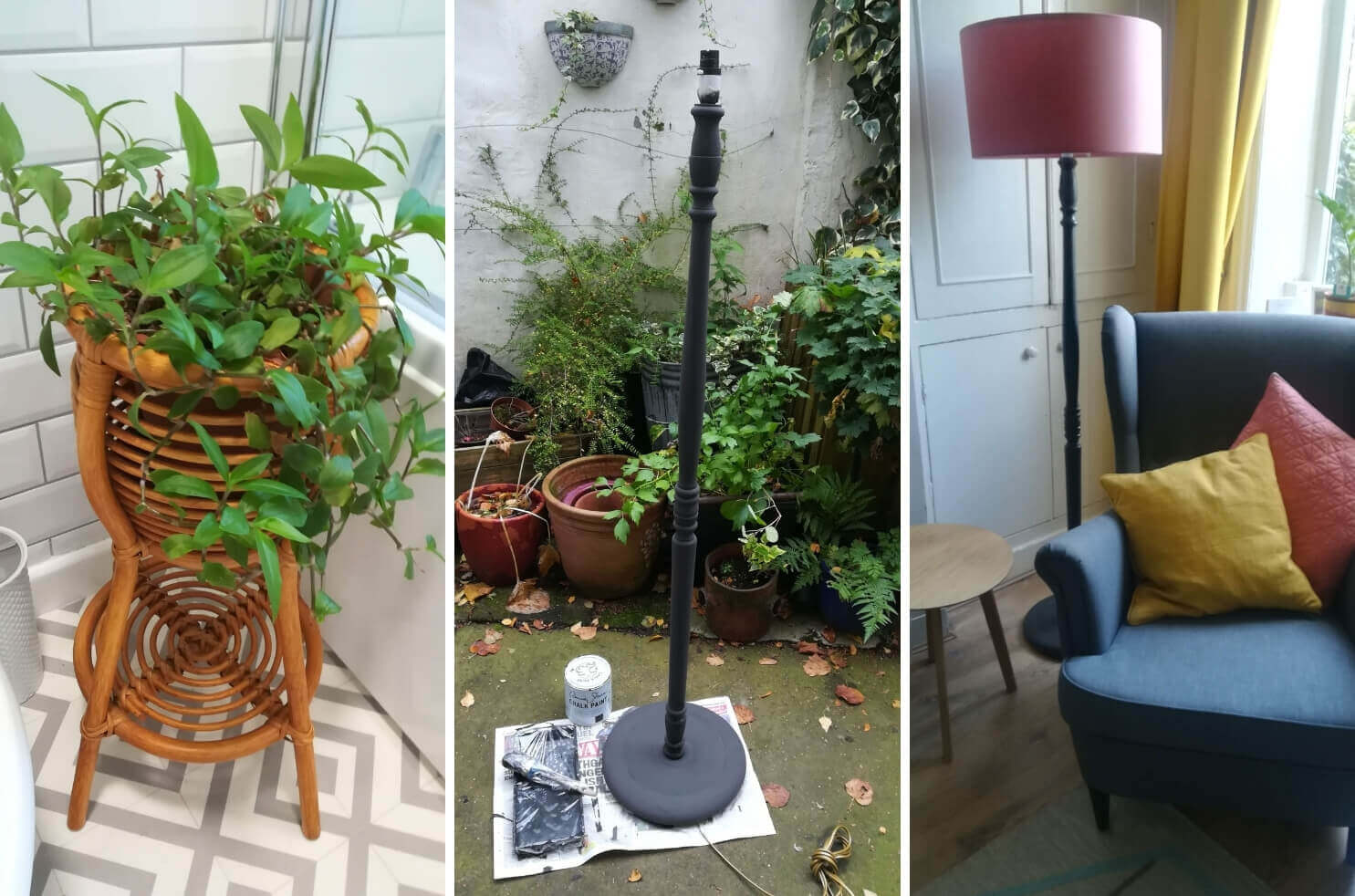 Changing times and changing rooms
The COVID-19 pandemic has seen many of us carve an 'office' out of the kitchen table, the postage stamp sized space on the landing, or even a garden shed. I've witnessed people reacquainting themselves with their homes and families after spending years out at work. We've had to adapt to how we live now, not when we first moved in. This has prompted clear outs, rubbish stacked outside waiting for the tips to open, fly tipping has unfortunately increased in some areas and bags of charity donations have built-up awaiting their reopening.
The impact on the economy has been devastating, with record levels of redundancies and people being thrown into times of crisis. Charities such as Emmaus can really help by offering reasonably priced furniture to set up a new home whilst offering accommodation and support for those who are experiencing homelessness.
Witnessing this change, and taking time to reflect, I have taken the opportunity to up skill and retrain in Interior Design. I have been drawing on my experience in the charity sector – thinking on my feet to throw a look together quickly to keep on top of donations, get the stock out and meet our sales target. I thought if we can do that in the shop, we can do that in our homes without buying new to create 'Instagramable' home interiors.
It's all about making the best of what you have, colour coordinating accessories and making the space work for how you use it on a day to day basis. You'd be amazed at the impact a redesigned space can have on your wellbeing and mental health.
A new revamp service
Out of this my Preloved Interior Styling Service was born. I offer a range of styling services using pre-loved furniture and accessories and make the best of what you already have –
Interior Styling room by room
Styling a whole house
Home staging to prepare a property for sale or letting.
Garden styling.
By using my service you will gain from my years of styling experience, my 'Little Black Book' of where to buy and natural eye for colour, style and layout, without breaking the bank. More details can be found on  my website.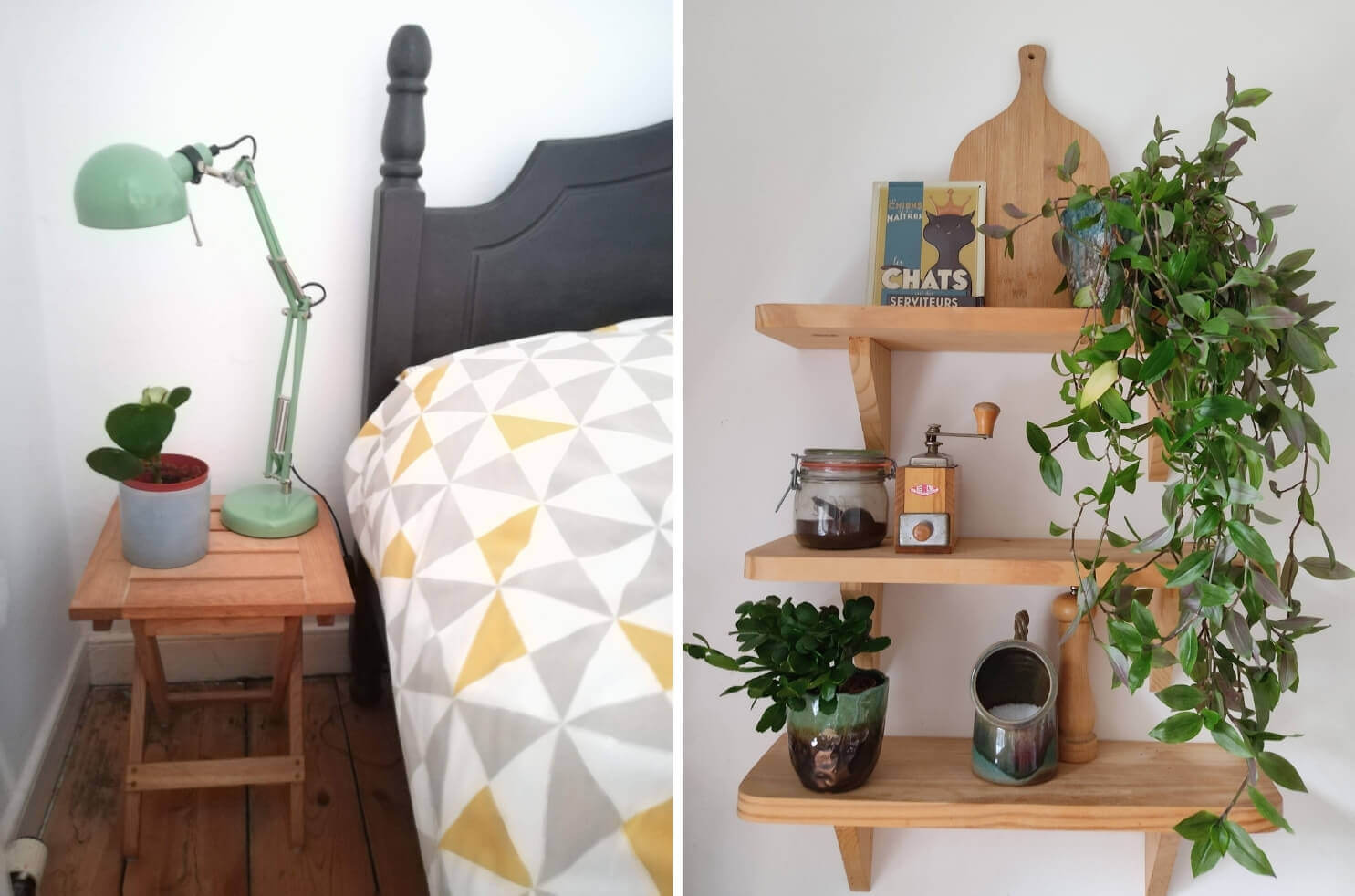 Next time you want to get something else for your home, why not pay a visit to your local charity and see what they have in store before you buy new and lessen the impact on our precious environment. Charity shops are a fantastic resource and if you're stuck for reuse design inspiration, I'm happy to help you revamp your rooms using only pre-loved items.