My name is Simon and I'm originally from York. I had my own very successful business but unfortunately due to circumstances out of my control, the business had to fold. This meant that I lost my livelihood, my home and came crashing down very quickly from the trappings of a lavish lifestyle.
I had a very successful sales and marketing business and was CEO for around 10 years. My wife had another business that didn't do too well, so that meant that not only one business had to fold, both businesses had to fold.
I ended up separating from my wife, on very good terms, but we had to go our separate ways. My wife and two children were living in Warwick and I decided to move back to Yorkshire. I spent two years going bankrupt, which was incredibly tough. I lost my business, my house, my car – I lost everything.
I moved in with family for a short period of time but that didn't really work. I tried to get jobs but at the time, from a family perspective, there wasn't really the support network and it was a blame culture. With the family thing, it is very difficult to get away from the past – "you had it all and you lost it".
"an overwhelming sense of relief"
I joined Emmaus Leeds in August 2019 after finding out about it from my previous key worker. With the help of my sister, I made contact with the staff at Emmaus Leeds. I took a leap of faith, went for an interview and thankfully they offered me a room. The only way I can describe that feeling was just an overwhelming sense of relief.
I had come from a six-man dorm with no facilities to a place where I had my own room, TV, radio, Wi-Fi and bathroom. The previous place I was staying at, I can only describe as the twilight zone. Coming to Emmaus Leeds felt like I had my liberty back, some security, stability and a sense that I had my life back.
Before coming to Emmaus I'd been in two other charitable organisations for homeless people. At one end of the scale was a hostel in York which, without being disrespectful, was organised chaos where people were discouraged from work. At the opposite end of the scale was a very strict charitable community where you worked for six days a week for no money. It was all consuming and you were not allowed any contact with the outside world.
Emmaus is, I think, the perfect half-way-house where you do get an allowance and have the freedom. Importantly, you have to work for your keep, which I think is absolutely vital to prepare you for getting back on your feet and moving forward.
"you're valued as an individual"
When you've had your own home and life, becoming homeless means you have to become reliant on the benevolence of other people. At Emmaus it's not seen as that – you come in as an equal, you work and contribute to the best of your ability and you're valued as an individual. The support network of Emmaus helps you look to the future and start again.
My two primary roles here at Emmaus Leeds are as a van driver and a chef. I tend to work a week in the kitchen and two weeks on the vans and rotate it like that. When a customer purchases some furniture from our store, we offer a delivery service, with prices starting at £10 to any Leeds postcode. As driver it is my role to ensure the items are delivered safely on the pre-arranged date and time.
In addition to that, people donate furniture to Emmaus by either calling us or completing an online donation form. We will then go to the property on a pre-arranged date and collect the items for resale in our shops. It is my responsibility as driver to assess the items for collection to make sure they're suitable for resale. For example, any furniture with fabric needs to have a fire label by law.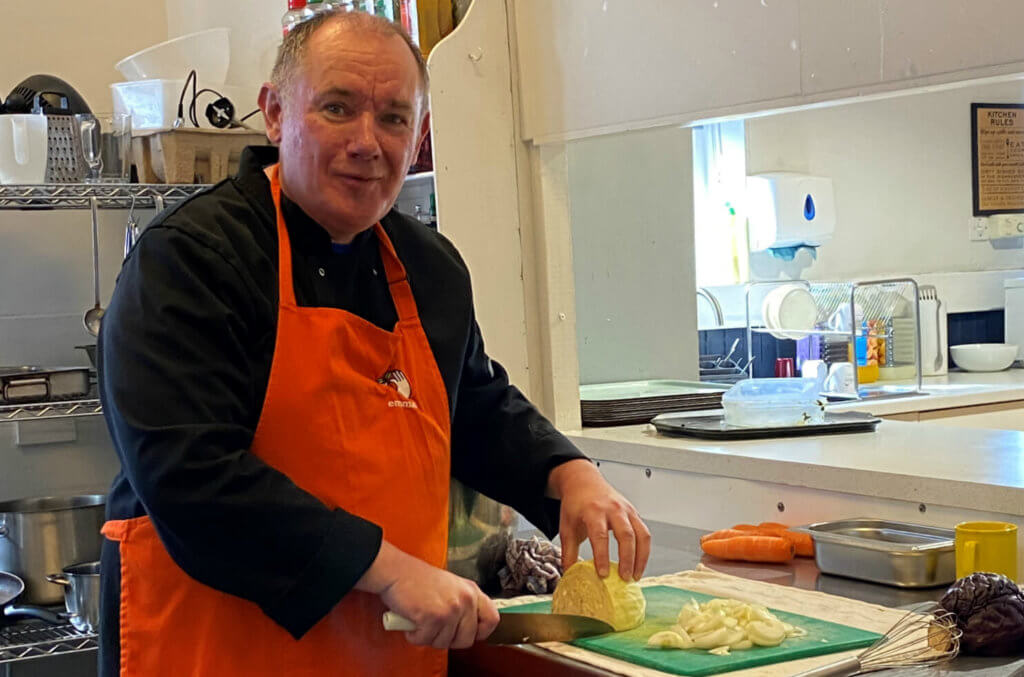 In terms of the chef role, my father ran a frozen food business throughout the 70s and 80s so I've always been around the catering industry. Very quickly I got into cooking and went to Scarborough College to study and gain my catering qualifications. I then did a placement as a chef in Germany and came back to the UK to continue my career in the food industry. All this experience lends itself to being able to cook for companions at Emmaus.
"everybody is equal"
The thing I like about Emmaus is that it's a level playing field. It doesn't matter what your background and circumstances are, everybody is equal. It gives you the opportunity to get routine back, which a lot of people like myself have lost. When I went bankrupt, I felt like I was constantly running to stand still as a means of survival. What I've learnt here is that now, for the first time, I've got the ability to be able to take stock, slow down and make the most of the opportunities that Emmaus offers. For example, I'm planning in one of my future holidays to go to Emmaus in Turin.
I've recently completed the Driver Certificate of Professional Competence (DCPC) course which was funded by the Emmaus UK Companion Training Fund. This gives me a huge opportunity to be able to go and seek work as part of the programme for me to move on. I now have the ability to drive a HGV and that enables me to look at job opportunities that are much greater than would be without the qualification.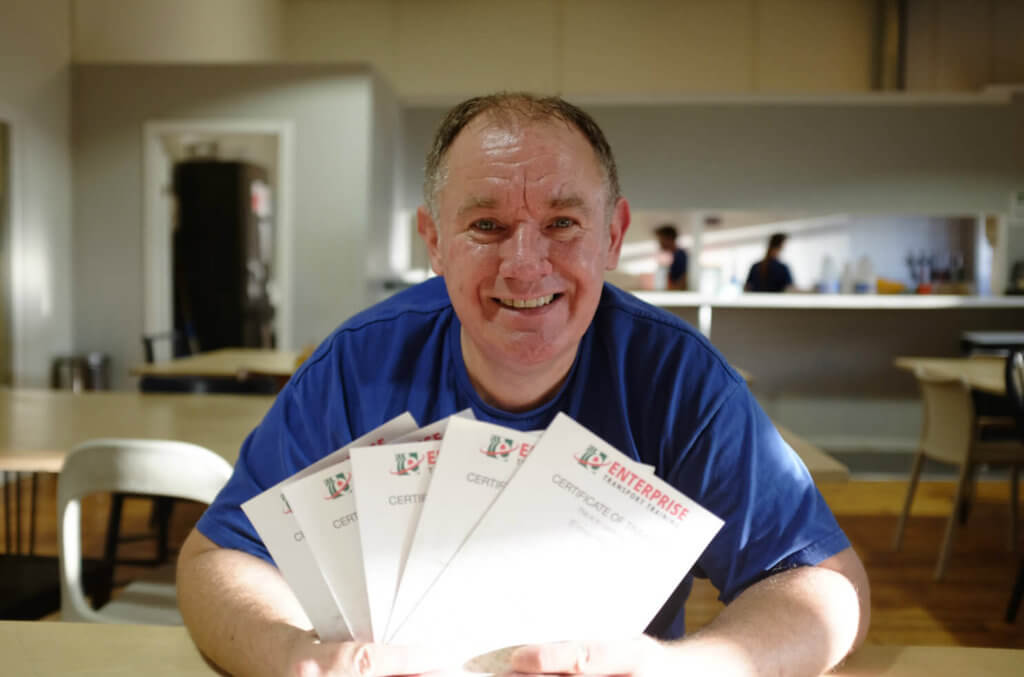 Emmaus isn't perfect but it is what you make of it. There's not a pressure that you've only got 6 months, a year or two years. As long as you abide by a few basic rules, it is a home for as long as you need it to be. It's a blank canvas to better yourself and decide what you want to do in the future. Now, all I want to do is get a modest life back together and enjoy it.
"the model works"
There are so many people who support Emmaus for the right reasons. Whether that be donating items, shopping with us, volunteering or supporting our charity in some other way. They're not doing it out of pity – they can see that people are working hard to better themselves and support others. I've made a lot of very good friends here.
The reason you should support Emmaus is that the model works and it flexes based on individual needs. You may get people who need mental health support or drug and alcohol support – it's all about the individual. What the Companion Training Fund and all these other things are in place for is to give people the opportunity to be able to do what they want to do.
When you lose everything and made homeless you don't have time to think. You're constantly fighting fires and getting hassle. A lot of what homeless people also experience – and I've talked to a fair few – is either a guilt factor, a fear factor, an embarrassment factor or a judgement factor. None of that will come into play when you come to Emmaus.
My advice to others who may be homeless is get yourself a stable platform, give yourself some time to think and talk to the right people. You've got to be real about your situation, clear the decks and start to plan, in a timely fashion, what you want to do in future.