After the national lock down, the closure of our charity shops and the ongoing uncertainty of life, it has been really great to begin the exciting works on our latest development at Emmaus Hertfordshire.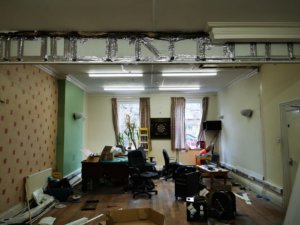 For many months we have been fundraising and planning this brilliant project that will see a new computer suite and separate meeting room space, installed in our residential building.  Up till now, our 40 companions have been sharing 2 very old computers. With limited wifi capacity, in our thick walled building, this has made it very difficult for them to apply for jobs and stay connected.  There are many online courses these days that help compliment experience on any curriculum vitae.
For the past few years, our charity has been supporting many organisations, by providing a small meeting space with basic facilities.  In a city as busy as St Albans, finding affordable meeting and training spaces with free parking and good facilities is pretty difficult. So, we decided to convert part of our building in St Albans into just that! A computer suite containing 10 computers and printing facilities perfect for training, contacting family and applying for jobs and housing.  In the other half of our old living room will be a large, bright and airy meeting room with smart tv and adjustable furniture.  We have also been able to install an adjustable wall, allowing the two rooms to be opened up into one large room for larger meetings, conferences and AGMs.
We know that this has been a long time coming, and many of our partner charities and organisations have been itching to be able to use this space for training, trustee meetings, conferences and AGMs. We cant wait to show you all the hard work once this lock down is over!
A big thank you to JPA Furniture, NM Cabling, and Storm Technologies for helping us push this work forward and adapting to be able to work under lock down conditions.  A huge thank you to Hertfordshire Community Foundation, The Clothworkers Foundation, St Albans Council Community Grants Fund, and The Albert Hunt Trust for helping us to fund this project, it is going to make such a difference to our companions and the wider community.
If you are a charity, not for profit, voluntary group, emergency service, or other organisation that provides valuable support and services to the local community and you would like to hire this space, please keep an eye out on our website and social media channels for news about its official opening and how to book.