Looking for a good use for your old car? If you have an old car and would like to give the value to your local homelessness charity, you're in the right place…
Donating your car to Emmaus Coventry & Warwickshire with Charity Car is easy and it won't cost you anything. Every penny raised will go straight to help us continue to change the lives of people who have experienced homelessness.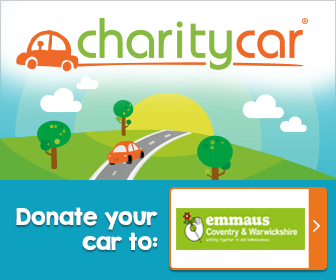 Whether you have a scrap or used car you'd like to donate, we can help. If your car is ready to scrap, it will be responsibly recycled and Emmaus Coventry & Warwickshire will receive 100% of the car's scrap value. If there's enough life left in your old car, Charity Car will raise the maximum donation value by auctioning it.
To find out more and donate your old car to us, visit: www.charitycar.co.uk/emmaus/emmaus-coventry-and-warwickshire
It's easy – simply type in your car reg and postcode to start the donation process. You'll be asked a few questions about you and your car. You'll be able to arrange to have your car collected from anywhere, whether your car is at home, work, or a garage – at a time that's best for you. You'll also get help with the necessary paperwork when you donate your car (it's vital to get it right so that you don't get hit with a fine from DVLA).
If you know someone that might find this scheme useful, please tell them and help us spread the word.