Emmaus Colchester held its first ever away day for staff, companions and trustees on Monday 19 August. The programme of events included a guest speaker, team building and communication training and a discussion on solidarity. 
Leading life and performance coach, Josh Connolly, started the day with his own challenging story. As a young child he suffered the impacts of living with an alcohol dependent father, who subsequently died when Josh was 9 years old. The trauma was to have a huge influence on how he saw the world and had a detrimental effect on his own mental health.  
His talk focused on how his recovery was based on resilience and how he was able to work through his problems, rather than just getting over them. An important part of his message was to be truthful about your feelings and not be afraid to talk, "It's not pretending that everything is OK, it's looking at making changes, and dealing with the situation to make you stronger," said Josh. 
Part of developing resilience is being able to understand your own internal balance, something Josh refers to as your 'barometer'. Understanding how you feel inside, what impact your triggers have on you and acknowledging your physical and emotional symptoms.  
Event organiser, Gintare Petrauskatie, said,"The work Josh is doing goes hand in hand with what we are trying to achieve at Emmaus Colchester. His focus on positivity, resilience and mental health is something that we work on every day. We felt that the companions would be able to relate to Josh's personal story and gain valuable tools to use later on in their own lives." 
Despite this connection with the companions, it was the first time that Josh had visited an Emmaus community. Josh said, "Having had the opportunity to see the work that you are doing and the impact you are having, I will be shouting about Emmaus from the rooftops. It was a real privilege to spend time in the company of everyone at Emmaus Colchester."
When asked what was the main thing that like people to take away from his talk, Josh said: "Resilience is not the absence of struggle. In fact, when used and worked with in the right way, struggle can become our greatest asset. Emmaus is a beacon for helping people turn their struggles into resilience."
After a thought-provoking morning, the afternoon session was filled with an interactive team building and communication workshop, led by Tori Ryan, Learning and Development Officer at Emmaus UK.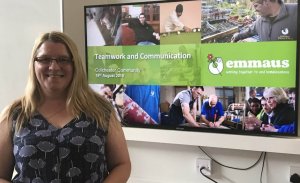 "Teamwork is definitely one of those things that makes Emmaus so successful," explains Gintare, "Tori's training allowed us to discuss what works well and explore how to improve problem areas, while working on ways to build and foster professional relationships with each other." 
The day was concluded with a discussion on how Emmaus Colchester can help others in the local community with acts on solidarity – one of the most important parts of the Emmaus ethos. It was a worthwhile communication exercise in itself, where companions, staff and trustees were able to explore, share and value each other's ideas and opinions, gaining a greater understanding of one another.  
"The aim of the day was to achieve a more coherent community and to equip our companions with the tools they need to build resilience and their ability to cope with challenges – all things, that we, as human beings, face daily. We hope to re-focus the way we see our community and each other and in return create an environment which is supportive and empowering," concludes Gia.